HIGHLIGHTS OF DEREK JETER'S 21st ANNUAL TURN 2 FOUNDATION GALA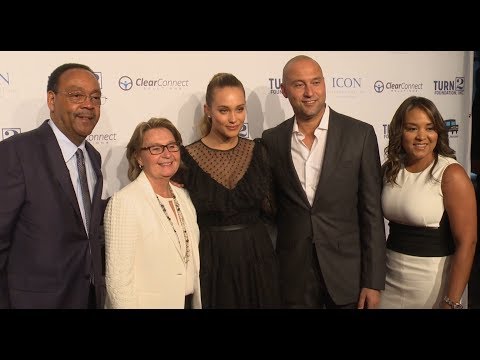 October 2017: New York City
Former New York Yankees shortstop and new Miami Marlins owner Derek Jeter along with "All Star" cast of athletes, celebrities, and supporters came together to support the baseball icon's Turn 2 Foundation at Cipriani Wall Street in New York City.  
The dinner celebrated the Turn 2 Foundation and its work to improve the lives of young people for more than two decades, raising funds for its programs that foster academic achievement, healthy lifestyles, positive behavior, social change and leadership development.
Among Derek's famous friends at the dinner included: Carl Banks, Tiki Barber, Nate Burleson, Chris Canty, Harry Carson, Swin Cash, Tom Cavanagh, Dr. Sampson Davis, Lisa Evers, Joey Fatone, Cecil Fielder, Dr. Rameck Hunt, Dr. George Jenkins, Hannah Jeter, Gayle King, Angie Martinez, Tino Martinez, Josh McCown, Mariano Rivera, Sharon Robinson, Holly Rowe, John Starks, Devon Still, David Villa, Teresa Weatherspoon, Mack Wilds and Jay Williams.
GRAMMY award-winning R&B group Boyz II Men closed out the evening with a memorable performance featuring some of their greatest hits. The event also included a live and silent auction featuring unique memorabilia.
As part of the evening's program, Turn 2 honored Chick Lee with its 2017 MVP Award. Lee serves as executive vice president and chief financial officer at ICON International, and launched the Derek Jeter Celebrity Invitational in Las Vegas in 2015. The foundation also celebrated the 16 college freshmen who in June graduated from its signature Jeter's Leaders program, honoring them for their academic achievements and for serving as leaders in their communities and beyond. The Jeter's Leaders initiative is a four-year leadership program for high school students in New York City and West Michigan who serve as ambassadors for Derek in their communities.
Since its launch in December 1996, the Turn 2 Foundation has created and supported programs and activities that motivate young people to turn away from drugs and alcohol and "Turn 2" healthy lifestyles. Its signature Jeter's Leaders initiative is a four-year leadership development program that fosters academic achievement, positive behavior and social change among high school students in New York City and West Michigan. During its 20 year history, Turn 2 has given back more than $27 million, funding its signature programs as well as organizations that support its mission.